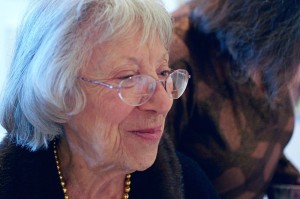 My name is Bernice Arthur, and my work can be seen in several galleries in the greater Boston area. I have been an art teacher in schools and day camps as well as in studio settings. I studied at Massachusetts College of Art, Massasoit College, Bridgewater College and at the Art Students' League, where I spent a year on figure drawing and anatomy.
All my life I drew. I felt like a fly on a wall – observing events, people, flora and fauna. I worked in hospitals and was deeply moved by the drama that took place there. I sketched in subways in New York and Boston – at train stations during war-time.
The laser prints shown here on the internet, were developed from my extensive collection of sketches from life. Some of them date back to my art school days in the forties. The faint pencil drawings were first reproduced on bright color paper and then, hand colored with color pencil and guache. No two are painted exactly alike. Then, finally the laser color print gives it the more contemporary, sleek look of the new millenium.
Later, I added color to my work and everything came alive. Every summer, I prowled the beach. My work is a diary of my life. In my painting, I often use my mother's china pieces and her love of beauty is captured on canvas.
In my mini sculptures, I sometimes depict families, a pilgrim family, people coming out of church, and even a space family at the art museum.
By now, you're catching on. I don't take life lightly, but my sense of humor kicks in. After all, I do not work in serious clay. I use bones, bottles, beads, stones and shells – pretty silly stuff to make "serious" art.