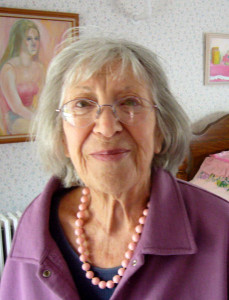 Bernice Arthur, 95, passed away on June 17, 2015, at her residence in the Deborah Lincoln House in Belfast, Maine, surrounded by her daughter Willy Reddick, her son Al Arthur, her son-in-law Wes Reddick, and her daughter-in-law Julie Rose. She was also surrounded by her favorite music, tapping her toes one last time to Billie Holliday, her artwork and writing, correspondence with the many people she has touched in her life, and the wonderful staff and residents at the Deborah Lincoln House.
Bernice was born in Malden, MA, on February 13, 1920 to Sadie and Morris Pritzker. She grew up in Dorchester, MA. She lived and worked in both Boston, MA and New York, NY before settling in Brockton, MA in 1956 with her husband Robert Arthur, where they raised their two children. She came to Belfast, ME in 2006 to live close to them and to participate fully in the creative life of the town. She was predeceased by her brother Paul Pritzker and is survived by her brother Elliot Stevens, of Florida, in-laws, nieces, nephews, and many friends.
Bernice, also known by the nickname "Neicy," was only 4'7" tall, but she was a creative force to be reckoned with. She was a prolific artist from her earliest years. She studied at the Massachusetts College of Art, Massasoit College, Bridgewater College and at the Art Students League in New York City. Her drawings are a testament to her talent and keen observation of the human experience. In her own words: "All my life I drew. I felt like a fly on a wall – observing events, people, flora and fauna. I worked (professionally) in hospitals and was deeply moved by the drama that took place there. I sketched in subways in New York and Boston – at train stations during war-time."
From 1963 through 1989, while living in Brockton, MA, Bernice taught art privately, in schools, and at camps. Not only does her art live on through her own work, her drawings, paintings, lively collages and mini-sculptures, but also through the students that she taught and inspired with her wit and creativity. She was a fine recycler of whatever was at hand well before the concept was in vogue; she received a grant to set up a recycling center for a local school department in order to assist their teachers in a more creative approach to art. This experience led to her how-to book, "The Art of Recycle", especially geared to elementary school teachers and craft leaders. When her teaching years were over, she exhibited at galleries, museums, and institutions from Boston, Mass to Belfast, Maine. Her art is beloved by many and owned by collectors across the United States.
Bernice loved the beach; her beloved Nantasket Beach in Massachusetts, and living here in her adopted home of Belfast by the bay. She could be found every Saturday at "her table" at the Belfast Co-op well into her last year of life, inviting all to sit, chat and have tea and sweets with her. She loved to share her life and art with others, and lived to show her work one last time this past May at the Senior College at Belfast's Festival of the Arts. There, she danced, laughed and delighted in the sale of her art for one last time.
Bernice's wry wit, laughter and infectious creativity will be missed by many. Her two self-published books can be found in the Belfast, Maine library. To read more about Bernice's life and view her art, please visit www.bernicearthur.com.
A remembrance and celebration of Bernice Arthur's life will be held at the Deborah Lincoln House, 60 Cedar St., Belfast, on Tuesday June 30th 2015, from 4-7pm. In lieu of flowers contributions may be made to the Deborah Lincoln House. The family is deeply indebted to this assisted living home and their deeply compassionate staff for assuring that Bernice and the other residents' final years are lived in dignity, comfort and joy.